After sitting out UTMB due to injury, Kilian Jornet knew that when he returned to training, he was going to do something meaningful, and something big. On October 2nd, Kilian began an 8-day journey back to where it all began for him, the Pyrenees, where he planned to link 177 peaks over 3,000m in a record amount of time Since Kilian hadn't been back to this particular region in Spain for over 10 years, his goal was more than just an endurance challenge; it was about revisiting his upbringing and rediscovering the mountains he climbed as a child.
Kilian describes his journey through the Pyrenees as one of the hardest things he's ever done. Read below to see what it took, both physically and emotionally, for Kilian to complete this epic adventure.
Watch Used: COROS APEX 2 Pro Kilian Jornet Edition
Analysis Tool: COROS Training Hub
Data Analyzed By: COROS Coaches
A Summer Filled With Ups And Downs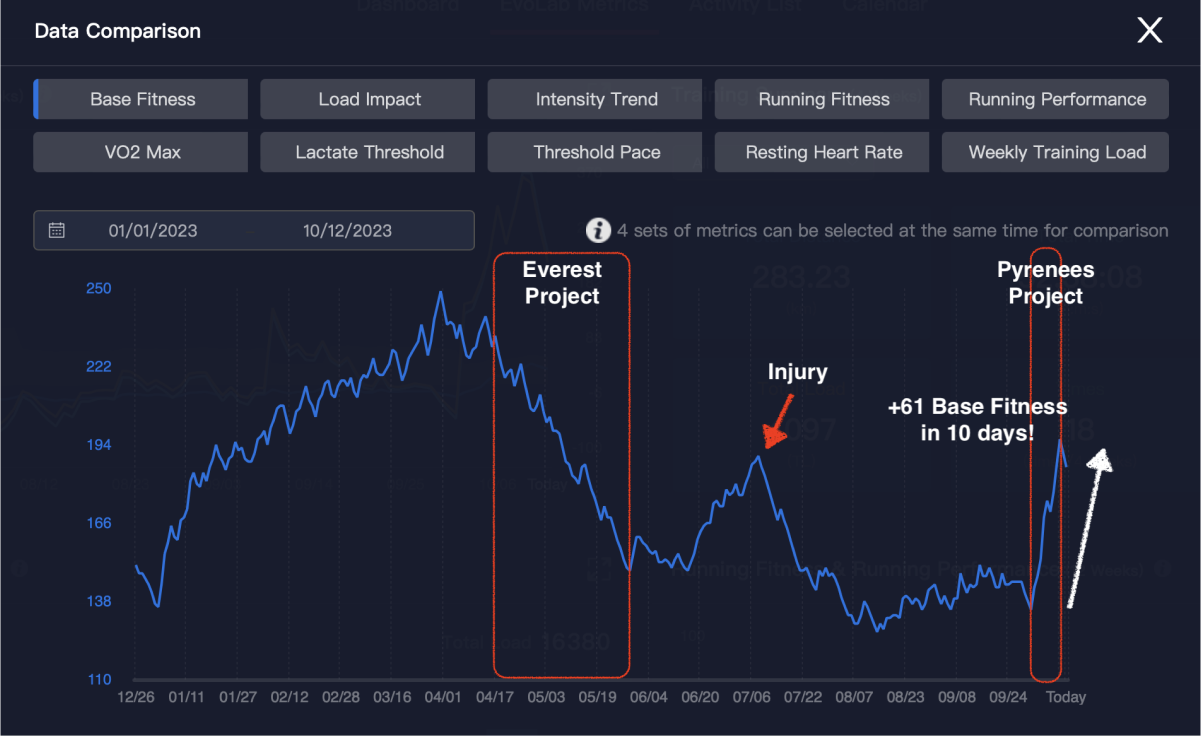 Kilian's Base Fitness in 2023.
COROS Education: Base Fitness is your 42-day rolling average of your training load score from each workout.
Kilian's season began strong with the usual skimo training in Norway in preparation for his Everest expedition in April, where he attempted a solo single-day summit up the western face of Mount Everest.
Following his Everest attempt, Kilian focused on rebuilding fitness for races later in the season, such as UTMB. Unfortunately these UTMB ambitions would be put on hold as Kilian experienced a hip injury that halted training throughout July.
Returning from injury with an empty calendar, Kilian was set on achieving something great this year. Reflecting on his upbringing in Spain, Kilian decided he would return home to conquer a new project. "I have not been to the Pyrenees in over 10 years, so I wanted to rediscover them with the capabilities that I have today," he explained.
(Re)discovering the Pyrenees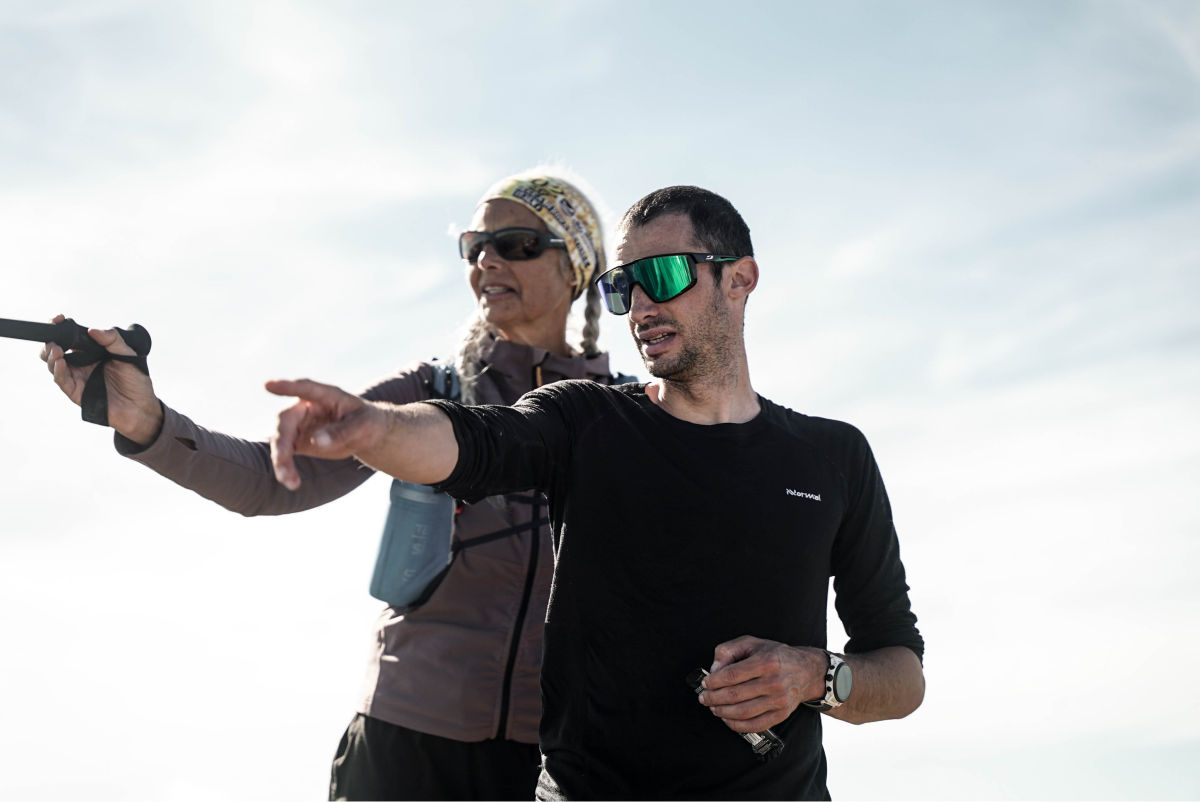 Photo by NNormal
Kilian's project in the Pyrenees began in Sallent de Gállego at the base of the Frondella Peak, where he would link nearly all 3,000m peaks in the area. This 8-day journey stressed Kilian's body on completely new levels, more than he's seen in prior years.
Below is a summary of Kilian's impressive data from his trip:
Days out: 8
Hours spent in the mountains: 155
Peaks summited: 177
Total distance covered by foot: 378.1 km (234.9 mi)
Total distance covered by bike: 105.6 km (65.6 mi)
Total elevation gain: 43,251 m (141,900 ft)
Total Training Load accumulated: 6,536 (avg 817/day)
Base Fitness increase: +61 (from 135 to 196)
More Than a Marathon Each Day
Photo by NNormal
Kilian covered a total distance of 378.1 km by foot. That is the equivalent of 47.3 km per day, more than a marathon each day. For his total averages between activity time, peaks summited, and elevation gain, his daily average netted:
Distance: 47.2 km
Hours: 19 hours
Daily Peaks: 22
Elevation Gain: 5,406 m
His longest push was 71.4 km, 39 hours, 40 peaks, and 7,959 m.
To put this into context, this is like climbing Mount Kilimanjaro (and more) every single day.
How Much Did Kilian Rest?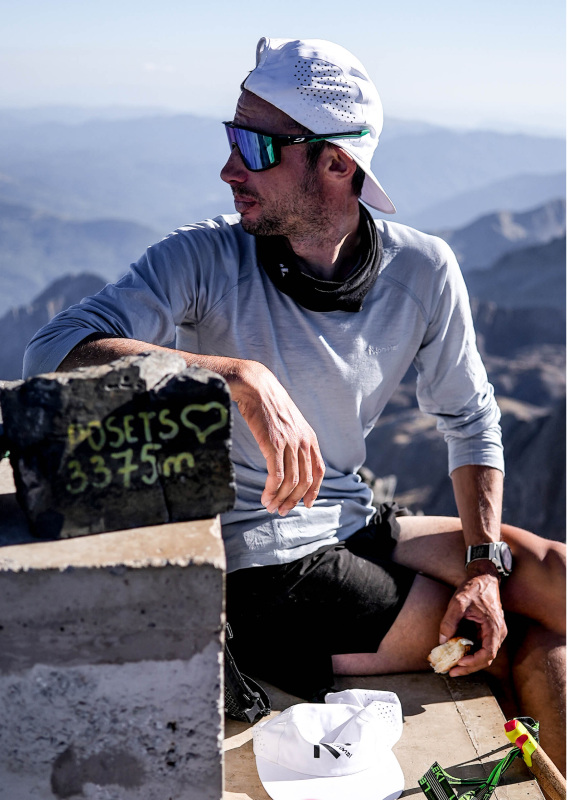 Photo by NNormal
While Kilian has an incredibly strong body and metabolism, this type of endeavor requires appropriate rest to ensure he could keep going. Throughout his entire project, Kilian had a total of 35 hours of rest time seperated into his activities where he would take care of his body, eat, sleep, and prepare to go out there again.
Below is a breakdown of his rest each day:
Day 1: 8 hours
Day 2: 5 hours
Day 3: 8 hours
Day 4: 5 hours
Day 5: 0 hour
Day 6: 6 hours
Day 7: 2 hours
Day 8: 1 hours
On average, Kilian only had just over 4 hours of recovery each day before going out again.
Managing Intensity on the Body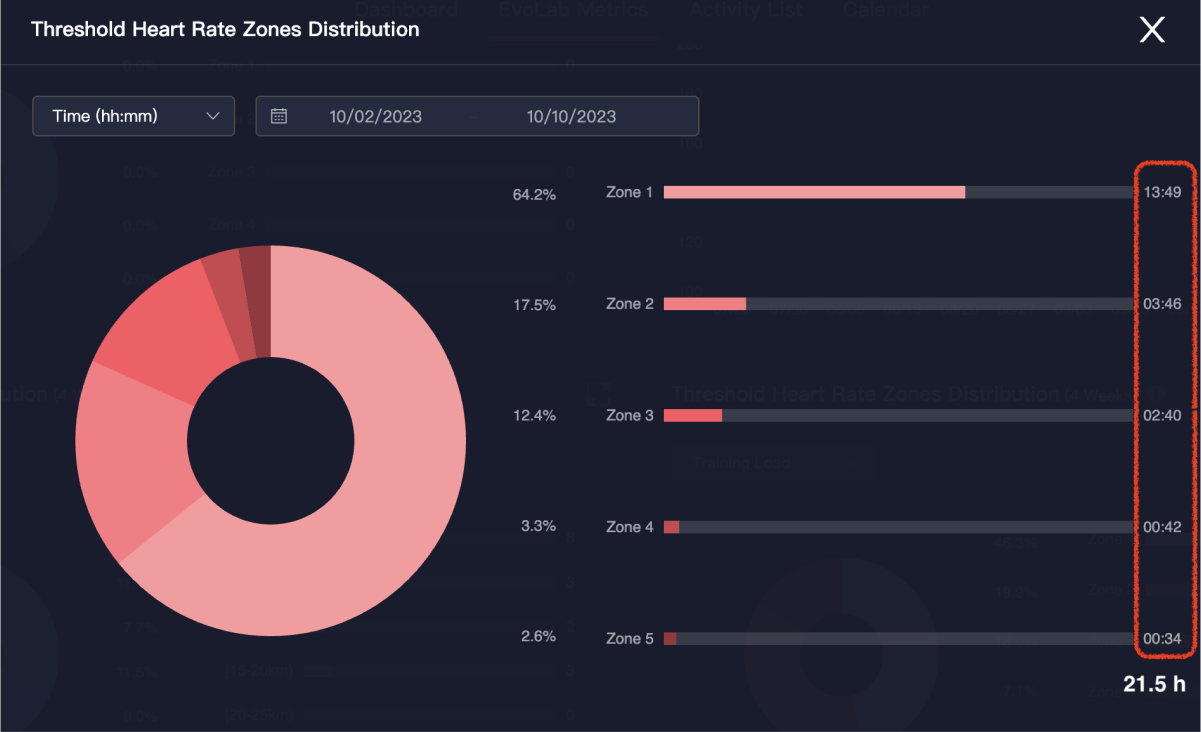 Kilian's Threshold HR Distribution during his project.
COROS Education: The HR Zones Distribution graph breaks down time spent in each zone to better monitor your training intensity.
During this project, it was crucial for Kilian to manage the stress on his body to keep moving. While this graph above describes the HR distribution of Kilian throughout the project, only 21.5 hours have been accumulated within his Threshold HR zones. This is due to the fact that most of his time has been spent below his Aerobic Endurance zone. So, let's summarize this graph again for a better understanding of Kilian's intensity:
Time spent below zone 1 (<88 bpm for Kilian): 86%
Time spent in zones 1-2 (easy to marathon intensity): 11%
Time spent in zones 3-4-5 (at or above threshold HR): 3%
Total Stress On The Body: Kilian's Training Load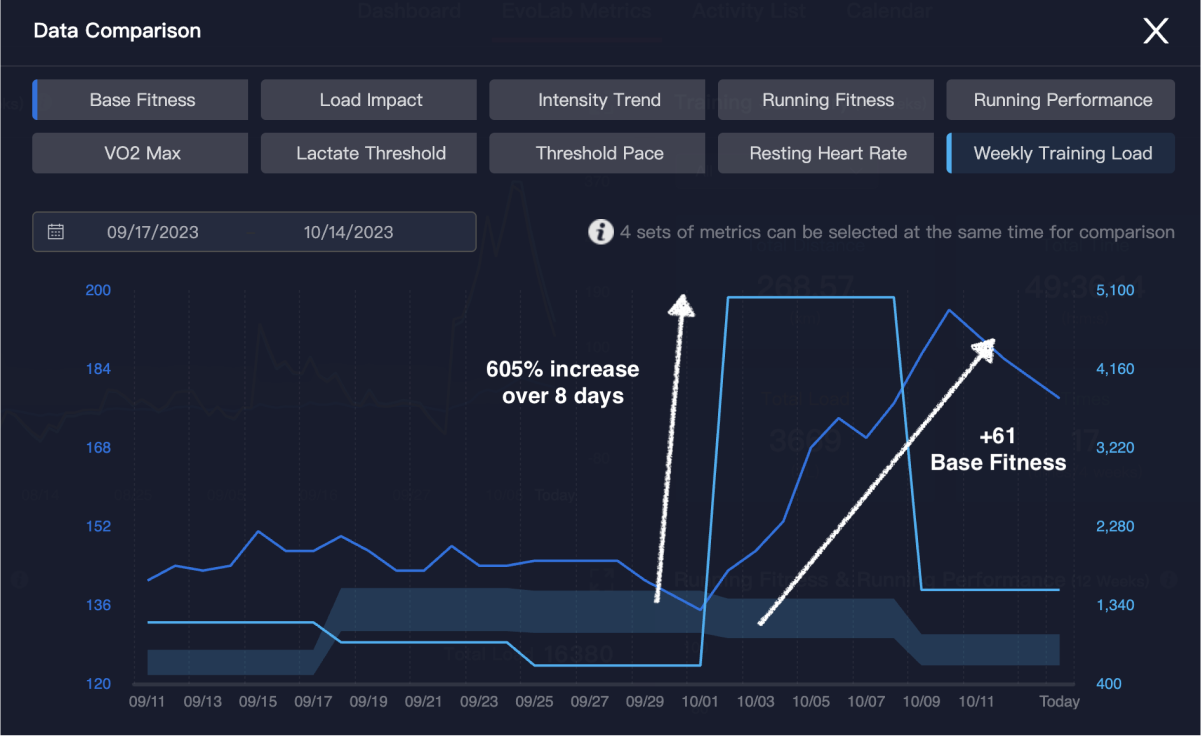 Kilian's Training Load from his project.
COROS Education: Each workout is assigned a Training Load score that represents the amount of stress put on your body. Training Load = Intensity x Duration.
A total of 6,536 training load has been accumulated by Kilian over the course of 8 days. On average, each day represented a training load of 817. Since Kilian began his adventure with a Base Fitness of 135, each day on average corresponded to 605% of what his body was previously accustomed to.
This massive increase has allowed him to quickly build his Base Fitness from 135 to 196, which translates to his body being able to sustain harder sessions compared to a few weeks earlier.
A runner that usually runs 7km would have to run a marathon every day for 8 days to match the training load that Kilian has produced during his project.
"I Am Exhausted..."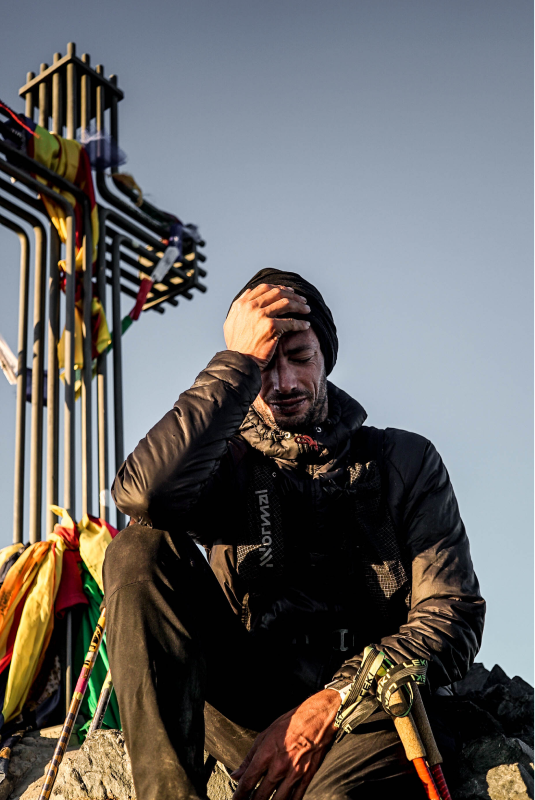 Photo by NNormal
Kilian uploaded his COROS activities to Strava, documenting each day thoroughly on his personal account and via the Strava Nnormal Club.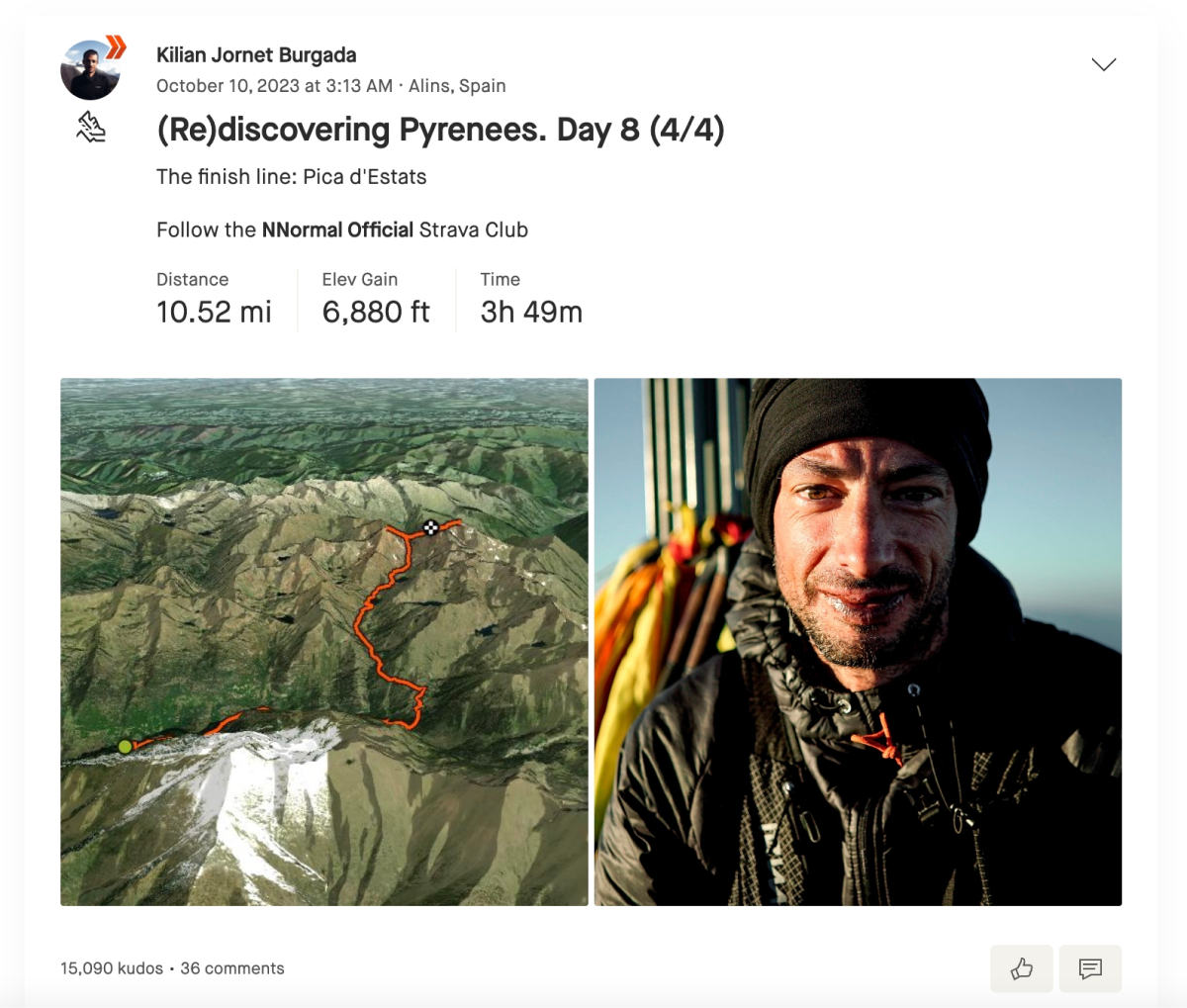 Click to view Kilian's activities on Strava.
Each day he pushed the boundaries during this adventure to rediscover a special place in his heart.
It's been very hard. It's been a journey of 8 days where I reached the edge both physically and emotionally. To travel across all those summits, it's been beautiful and very nice to be moving there, but at the same time it's been very hard and probably the hardest thing I have ever done. So, right now I am kind of exhausted!
Want an even more behind the scenes look? Watch Kilian's documentary produced by his apparel brand, Nnormal, and experience the stunning visuals of the Pyrenees:
The COROS team congratulates Kilian for completing this unbelievable journey and wishes him some well-deserved recovery time!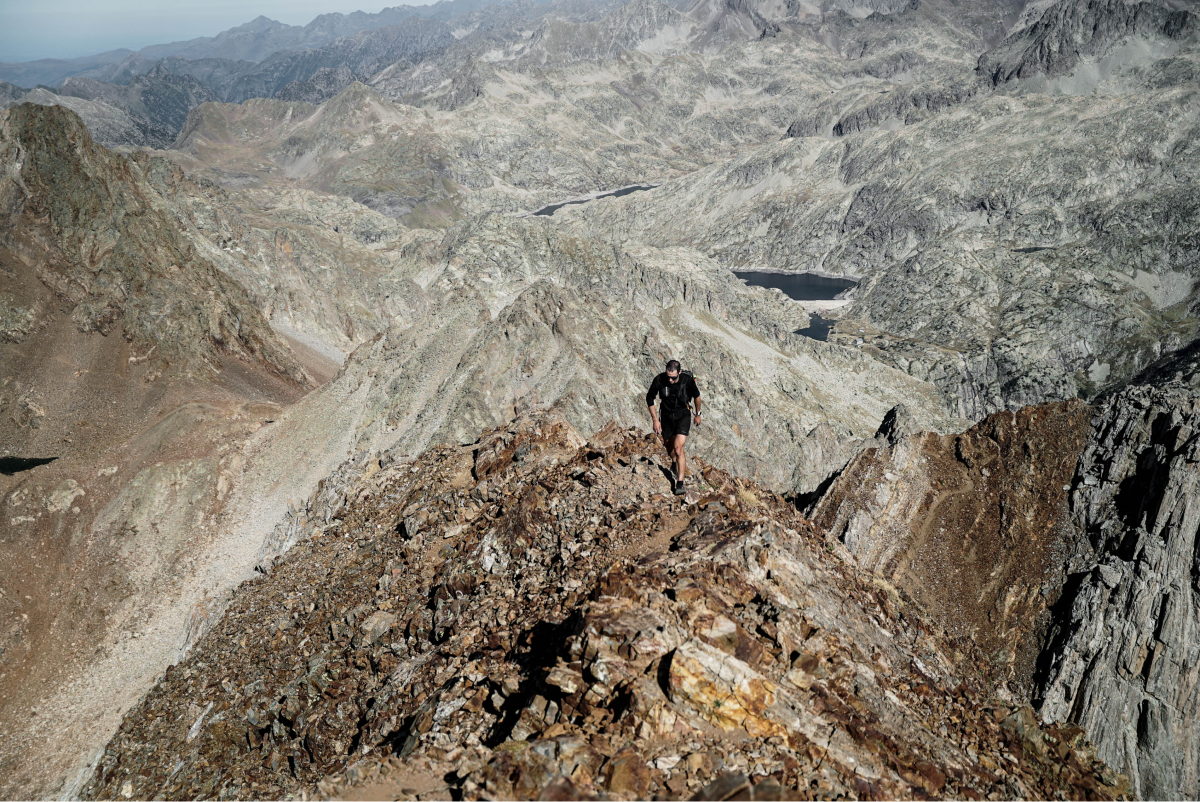 Photo by NNormal