In the vibrant city of Chicago, anticipation swept through the streets as over 47,000 runners prepared to embark on the 46th chapter of the city's iconic marathon. Among the countless inspiring tales that unfolded, one shone brightly: Des Linden's remarkable feat of surpassing Deena Kastor's American Masters Record by a mere 12 seconds, finishing in 2:27:35 and 17th woman overall.
See Des' training data below, including her build, taper, and peak the night before the race.
Des Linden's Marathon Build to Chicago
Des embarked on a dedicated 16-week journey leading up to the Chicago Marathon, focusing on specific marathon training, even though she had been running before this intensive training period began.
In May and June, her Load Impact and Base Fitness values remained close, accompanied by a low Intensity Trend. However, as her training regimen progressed from July through September, her Load Impact surpassed her Base Fitness, and the Intensity Trend value saw a significant rise. Here is more information on Training Status:
Load Impact (7-day rolling average): Short-term stress
Base Fitness (42-day rolling average): Long-term stress
Intensity Trend (24-day rolling average): Fatigue
It wasn't until September 28th, 11 days before the marathon, that her intensity trend dropped to zero. It continued to decrease until race day, showing negative numbers. During this period, her Base Fitness also decreased. This all indicated a well-executed tapering strategy. This strategic approach led to her training status reaching the coveted level of Performance before the race.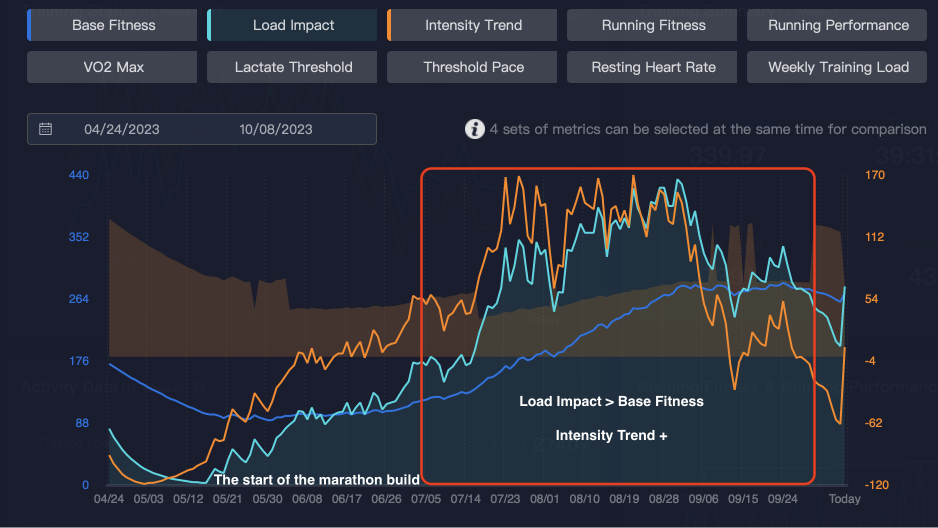 Athletes above the recommendations during their build portion need to closely monitor their fatigue.
The Night Before Chicago
Des felt physically fit and mentally prepared to tackle her ambitious goal, a confidence bolstered by her training data. The night before the race, her Training Status was in the "Performance" zone, indicating she was fully prepared for substantial physical exertion.
COROS has 6 Training Status Zones to help athletes determine their recovery needs and preparedness:
Decreasing: Low recent Training Load, Base Fitness declining
Performance: Ready to take on significant physical effort
Resuming: Increased Training Load is improving your Base Fitness
Maintaining: Moderate recent Training Load, maintaining Base Fitness
Optimized: Productive training is increasing Base Fitness
Excessive: Recent training may be overreaching or excessive
Her Training Status score of -85 was derived by subtracting her Base Fitness from her Load Impact. A negative number might seem counterintuitive, but it shows that her Base Fitness was much higher than the current stress on her body, meaning she was ready to peak.

Des' Training Status of -85 (a subtraction of Load Impact from Base Fitness, indicated she was primed for performance).
Chicago Race Analysis
Des shared with COROS before the race, "On paper, there are plenty of athletes that should beat me, and I'm excited about the challenge of chasing them down later on." Rather than surging ahead with the lead pack, she leveraged her experience to set her pace right from the beginning carefully. She went through the 5k in 17:20, averaging 5:35 per mile.
Des maintained a strong pace at the halfway point, crossing the half marathon mark at 1:12:53. She kept the splits consistent, staying well ahead of the record pace. After 20 miles, however, Des said the wheels began to fall off, but she knew she still had room to break the record since she was ahead of pace. Although her pace slowed down, her cadence slightly increased as she pushed harder to maintain effort and form.

Des maintained an average heart rate of 161, and an average cadence of 191 throughout the Chicago Marathon, operating in her aerobic and threshold pace zones.
Des explained that a few male racers diverted their attention from their race to help pace her to the finish line. With sheer determination, she broke the Masters Record by 12 seconds, completing the race in 2:27:35.
5 Key Takeaways from Des' Chicago Marathon
Age Knows No Limits: Des's remarkable improvement over the years demonstrates that age should never restrict your pursuit of fitness goals. In 2008, Des completed the Chicago Marathon in 2:31:33, a time nearly 4 minutes slower than her performance this year!
Unleash Your Ambitions: Don't confine your aspirations based on your age or life stage. Set audacious goals and pursue them relentlessly. Read how Des continues to run well later in life.
Structured Training Yields Results: Allocate ample time for training. Des's 16-week focused marathon training highlights the importance of a well-structured, dedicated approach.
Track Your Progress: Utilize technology like the COROS watch to monitor your training intensity and gain confidence in your data-driven decisions.
Consistency is Key: Long-term success stems from the daily commitment to training. Small, consistent efforts trump sporadic heroic attempts, emphasizing the power of unwavering dedication.
Congratulations Des!
Des Linden's journey is far from over, and there's no indication of her slowing down anytime soon. Her unshakable belief in her ability to pursue ambitious goals and tackle significant challenges inspires us all, especially women who aspire to follow their dreams at any age. Des's training and historic achievement at the 2023 Chicago Marathon offer valuable lessons for everyone. As we look ahead, we are filled with pride for her accomplishments and eager anticipation to witness her continued triumphs in the world of sports.