Sally has always carved her own path, especially in the world of trail running. At the beginning of 2023, Sally set out to do what many others might call crazy: complete four 200-mile races in the span of one year. But Sally has always had a fearless, daring spirit. It's part of what makes Sally, Sally. Do hard things, and "Choose Strong" even in the face of setbacks. Sally reminds us all that it's okay to step beyond our comfort zones, welcome challenges, and acknowledge the potential for failure as part of any journey.
Read below to see the highs and lows of Sally's multiple 200-milers this year.
Watch Used: COROS VERTIX 2
Data Analyzed By: COROS Coaches
Grand Slam of 200-Mile Races-2023 Challenge
When Sally decided to take on the Grand Slam Challenge, she knew it would be a completely different experience from anything she had ever endured before.
The Grand Slam consists of the following races:
To prepare, she followed a plan that included strength training, hiking, and wearing a weighted vest to make her body stronger and more resilient. Sally also made a conscious effort to gain weight to reduce the performance obstacles that might arise from losing too much weight during the races.
I don't do the races that people are expecting me to do. I want to do things that set my heart on fire.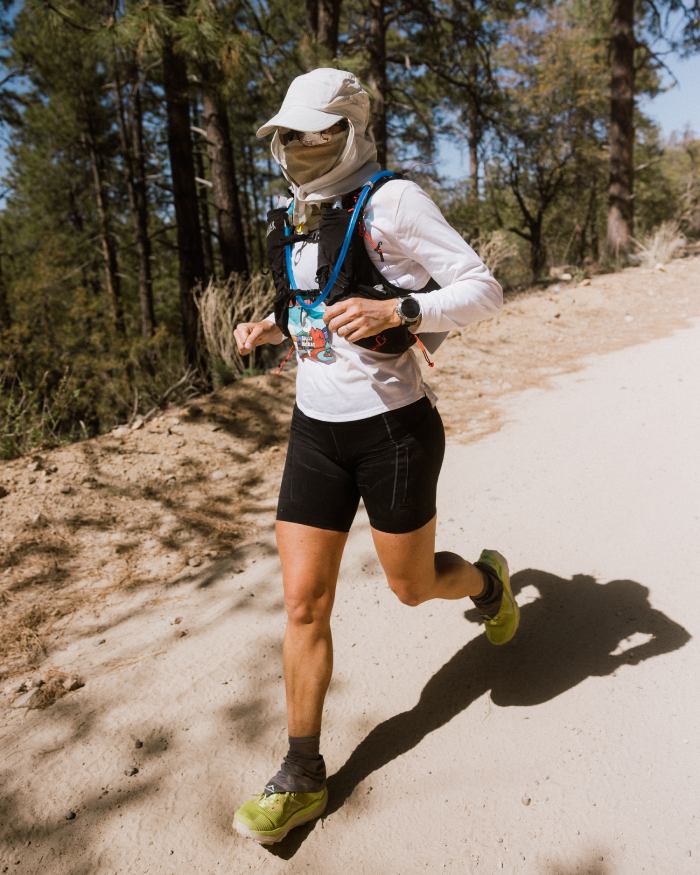 Sally racing at Cocodona 250. (Credit: Tyler McCain)
Six weeks prior to Cocodona 250, she used the Jackpot 100 as a training run. This was scheduled during a peak week so that Sally could see how her body performed with no taper, running on tired legs, and being fatigued. She used this feedback to structure her final few weeks of training.
Here is a look at how Sally prioritized recovery and what training she included between races within such a short timeframe.
From Cocodona 250 to Tahoe 200
Duration between races: 12 weeks
Sally's Race Review: Cocodona 250
Sally focused on mechanics, speed, and turnover. Because she lost weight during the race, between races she tried to put weight back on during this time. Unfortunately, she got sick and went into Tahoe not feeling well.
From Tahoe 200 to Bigfoot 200
Duration between races: 3 weeks
Sally's Race Review: Tahoe 200
Sally had little time to recover and was still overcoming sickness. To prioritize recovery, she did a few runs and focused on mobility exercises in rest. Her goal for Bigfoot was to show up strong and healthy, and just get to the finish.
From Bigfoot 200 to Moab 240
Duration between races: 9 weeks
Sally was able to get some downtime for recovery. She did have a lot of travel during this but she was able to take 3.5 weeks to focus on her final preparations for Moab.
Sally's secret goal going into Moab 240 was to win the race. She made the mental commitment of finishing the right way.
This will be the best race ever, I am going to win. Gotta think positively!
Moab 240 was intense from the very beginning. For every setback that happened, Sally reminded herself that she had been here before. This wasn't new, she endured the pain and challenges in the earlier races and she could endure it again. She kept choosing step after step until she reached that finish line.
Pain is a journey. What I experienced this year, I couldn't endure this a decade ago.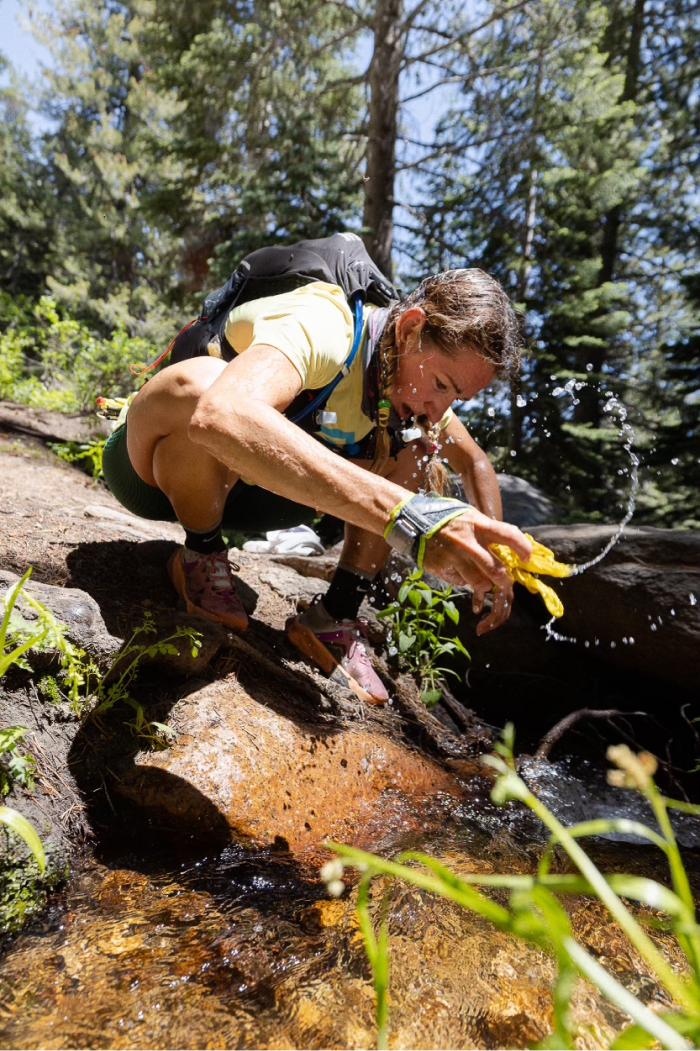 Sally racing at Tahoe 200. (Credit: Tyler McCain)
Importance of Strength Training and Recovery
Throughout our lives, we have the opportunity to continuously build and maintain our strength. This does not mean diving headfirst into intense workouts like CrossFit or heavy barbell lifting, but identifying your body's imbalances as an athlete and following a program that is tailored to what your body needs.
When you turn 30, you start to lose strength, but we get to choose to get in the gym and build it back up.
Over the last 10 years, Sally has kept herself free from injuries by focusing on several things: strength training, nutrition, doing specific physical therapy exercises, and taking time to recover properly. Even though she's a coach herself, she always talks with mentors and other coaches to gain fresh perspectives and learn from their experiences.
Back in 2011, I had to deal with shin splints and IT band injuries because I was not spreading my volume and intensity properly. Since then, I have not dealt with any training-related injury, and strength training plays a big role in injury prevention for runners.
Sally emphasizes the significance of recovery, a crucial but often overlooked aspect of athletic performance. She understands the importance of listening to your body's signals and not becoming distracted by what others are doing.
Many athletes resist taking breaks or allowing time for proper recovery. Some ultra runners even boast about returning to the trails immediately after races. However, this isn't necessary. Your body deserves a chance to breathe and recuperate.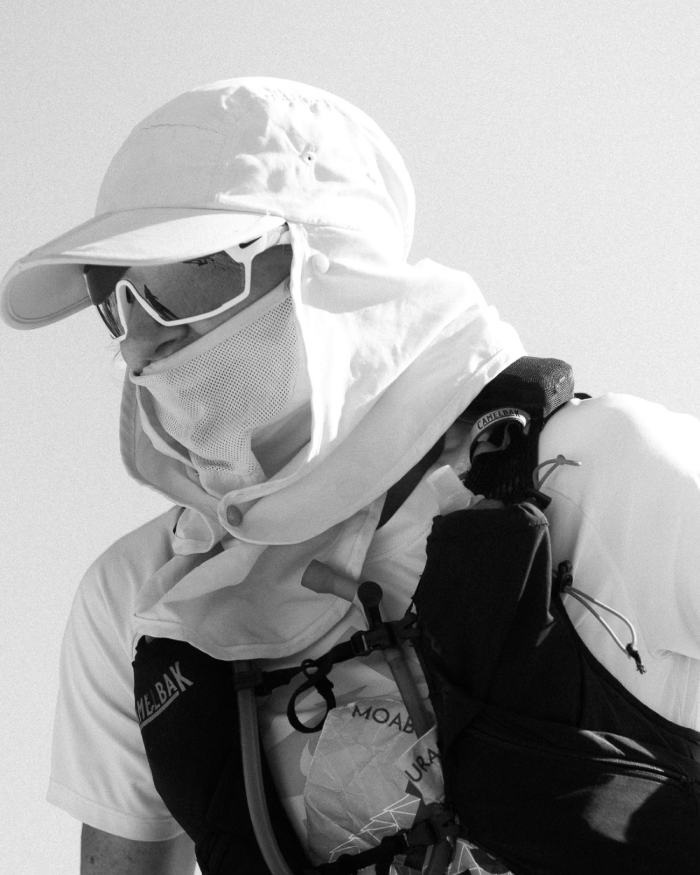 Sally racing at Moab 240. (Credit: Tyler McCain)
Going the Distance with COROS
For a trail runner like Sally, having the right technology is absolutely crucial. The feedback provided by her watch becomes increasingly important the further she gets into a race. Fortunately, downloading the course map on her COROS VERTIX 2 helped Sally stay on course for each race and allowed her to anticipate upcoming aid stations.
For those races, it's mandatory for racers to have the course on them. By having a watch that I can rely on with not only battery life but detailed map features, it removes a significant weight off my shoulders. In fact, some runners occasionally relied on me to keep themselves on track because their watch died!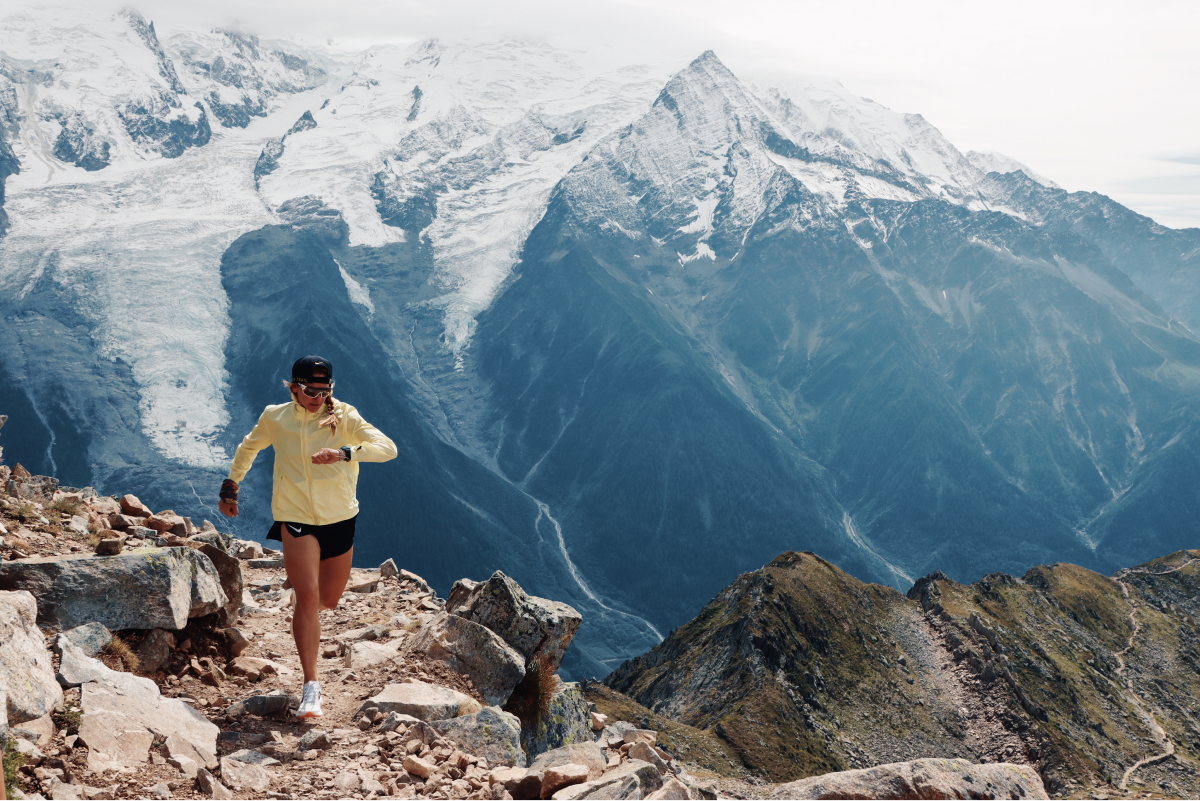 Sally training in Chamonix.
Congratulations, Sally, from the entire COROS Team on your incredible achievement! We look forward to following your next adventure on the trails.