The Marathon is a distance that attracts athletes of all ages and fitness levels. It is a distance that tests a runner's physical and mental endurance. For professional long-distance runner, Olympic bronze medalist, and COROS athlete, Molly Seidel, training for a marathon has involved dedication, hard work, and self-advocacy. Her training has not just been about physical preparation, but also the mental journey. Learning how to listen to her body and work with it instead of against it has been an essential aspect of her preparation for both the 2023 Chicago Marathon and the upcoming Olympic Trials.
Molly's story about progress and not perfection is one that many aspiring female athletes can relate to. As we head into race weekend, here is how Molly went back to her running roots in Wisconsin to be surrounded by the roads and community where she originally discovered her love for running.
Preparing to get back out on the big stage
Molly has had to spend the last two years sidelined while she got her health in order, but she is finally ready physically and mentally to get back out there. She is really looking forward to racing again. "It's exciting and terrifying and that's what I love most about the sport", she shared when asked about what she is most looking forward to at 2023 Chicago Marathon.
Her big goal going into the Chicago Marathon is an overall strong performance. Molly said that "she is not looking to go out and risk it all because her big focus is 2024 with the Olympic trials."
Incorporating Trail Running
Training for a marathon requires a lot of time spent logging miles or time on your feet. It is important to incorporate variety into your training, like trail running, to help improve overall fitness and prevent burnout. For Molly, trail running has helped her not only as a runner but as an overall athlete.
Running trails in Wisconsin was one of the things that made me fall in love with running as a kid, and I still appreciate the value of training and racing on grass, dirt, and trails. It gives a kind of strength and dynamism you just can't get anywhere else, and the soft surfaces are much easier on your body. Trail running also allows me to get a mental break from training on the roads or track, and more than anything it's just plain fun!
When in Chamonix for UTMB this past August, Molly shared that trail running is a creative outlet to go and do something that's totally different, technical, and fun. Being there to train was a mental refresher as she goes into a marathon build.
Navigating Negative Self-talk
Dealing with negative self-talk is probably the most crucial part of racing because no matter how fit you are it's always going to come. Rather than "battling" or trying to suppress those thoughts I've switched to trying to acknowledge and accept that they're there but realize they're just thoughts and are temporary. You have to let that thought run its course without it taking over and get to the other side of it.
Pushing outside of our comfort zones is not something we do on a daily basis. It is important to practice work through negative self-talk in training so that when it happens on race day, as Molly said, you are able to get to the other side of it.
Using COROS in Training for the 2023 Chicago Marathon
Throughout her training, Molly used the training status from her COROS watch to track progress but also listened to her body for cues to slow down or push harder so that she's training sustainably.
Metrics like pace, distance, and time are key for me in workouts and hard training since we have to train for such exact splits and paces in a race. Heart rate as well because it's such a great way to tell how hard your body is working at a certain pace and gauge fitness. However, when I'm doing recovery runs I'll sometimes even just set my watch on "stopwatch" mode and go completely no data, just running for time. There needs to be a place to learn your body and be honest with yourself of what you need; people are surprised to see that my easy runs can vary from 6:20 pace all the way up to 9:30 depending on the day!
Molly will race the 2023 Chicago marathon wearing the COROS PACE 3.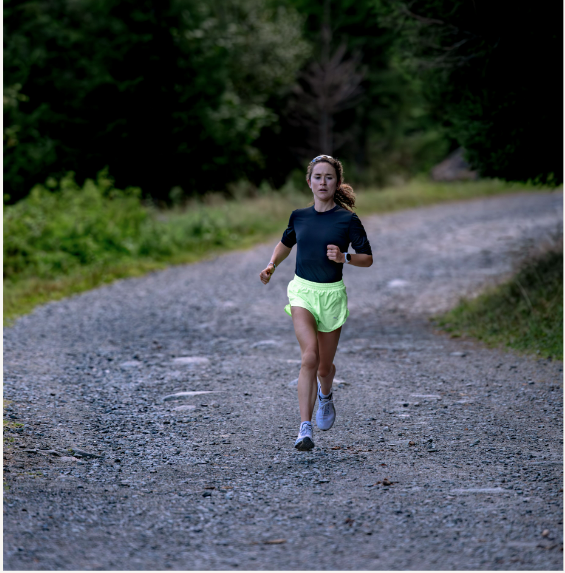 Photo by Justin Britton.
Molly's Top 3 Tips for Female Marathoners
Across the world, about one-third of marathon runners are women. If you are new to long-distance running, on the comeback after taking time off, or need an extra boost as you prepare for an upcoming race, here are Molly's top 3 tips for female runners:
1. Eat Carbs!
For women especially carbs are super important to maintain hormonal health, and they're rocket fuel for your training.
2. Find the best shoes.
Many shoe brands build "women's" shoes as shrunken down men's pairs. The geometry of the female foot is quite different, so if you can find a specific Women's-fit running shoe to train in. And rotate them out frequently to prevent injuries or soreness.
3. The power of the group.
Training with friends or a team is the secret training tip people like to ignore. The great Kipchoge himself said "100% of me is nothing compared to 1% of the team"; training partners push you, provide support, and just make training more fun. Training for marathons is hard but friends make it a hell of a lot better.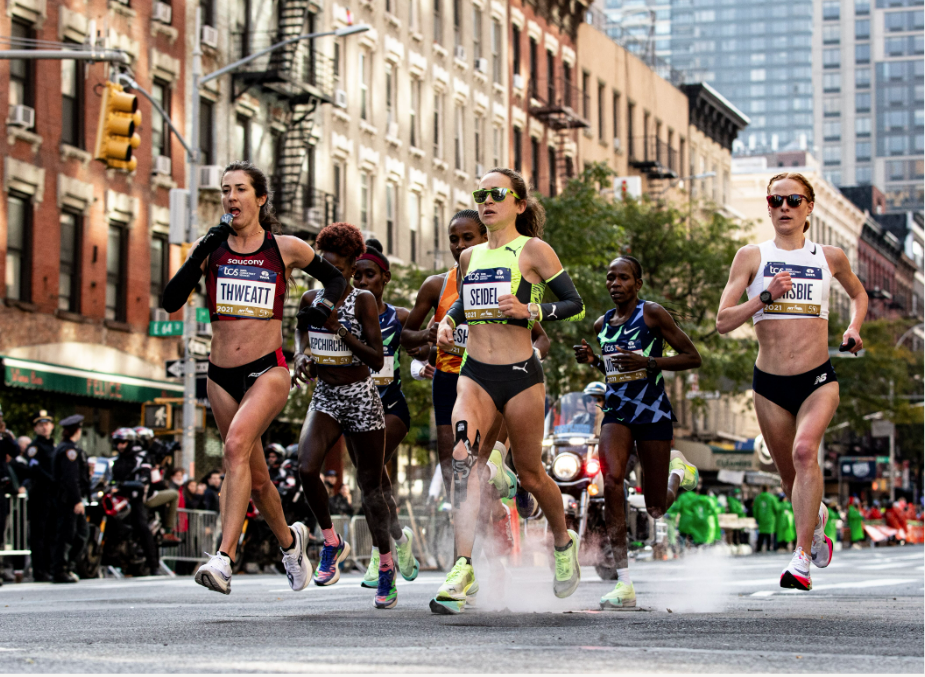 Photo by How Lao.